Meet Lucia Maxwell from cheekyalbi on Etsy. Read more about her designs and her process right here on Promo Junkies of Etsy:
How did you first get started on Etsy?
I started another business Bébé Blocks with my father this past summer on Etsy and then decided to open my own shop a couple months later. I was a former attorney and now stay-at-home mom to my new son, so I wanted to reconnect with my creative side!
What is your inspiration for your shop?
Definitely my son. A lot of my prints are based on sleep (or lack thereof :), dreams and the travels I hope my son takes one day.
What is your favorite item from your own shop and why?
Tough question! But I think my "Oh the places you'll go" vintage map print. I love the hues of blue and pink, it looks so lovely printed.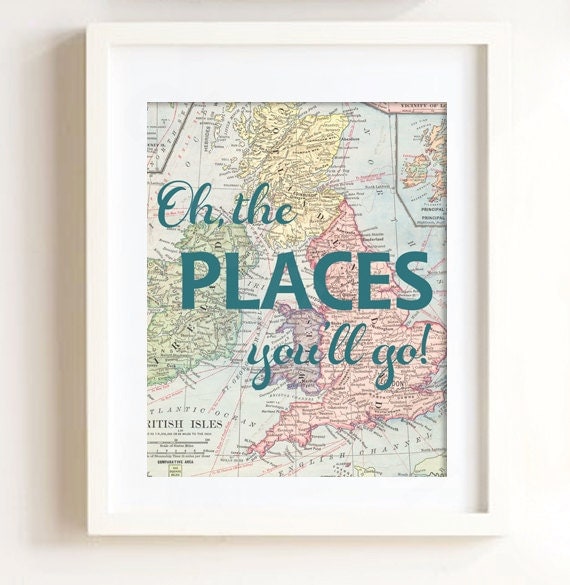 How do you unwind when you're not creating?   Yoga!
List 3 of your favorite Etsy shops.
Billy & Scarlet http://www.etsy.com/shop/BillyandScarlet
Decoylab http://www.etsy.com/shop/decoylab
Vintage Barrel (love their maps!) ttps://www.etsy.com/shop/vintagebarrel
How would you describe your work style?
Dreamy, whimsical, soft, vintage, edgy but delicate.
If you could choose any one superhero power, what would it be and why?
The ability to freeze time so that my son would be a baby forever with the caveat that he sleeps through the night.
If you knew then what you know now, what would you do differently in opening your shop?
Perfecting the boilerplate wording for the listing so I don't have to always go and manually change each listing; takes forever!
Please list where you can be found:
http://www.facebook.com/cheekyalbi
http://www.pinterest.com/luciamaxwell2/
Twitter: @Bebeblocks twitter.com/bebeBlocks
Thank you for allowing us a behind the scenes peek into your processes and inspirations!