Meet Mary from Kent, Washington.  Legwarmers are making a big show this year and you can find adorable patterns in her Etsy shop: KickinCrochet
How did you get started on Etsy?
When I was pregnant with my daughter in 2010 I picked up crochet again, which I hadn't done since I was a kid. Once I started, I just kept going and pretty soon I had way more stuff than I could use or gift, so I decided to open up an etsy shop in 2011. Since then I've started writing crochet patterns and it's been a lot of fun!
What is your inspiration for your shop?
My children, for sure, but also the fact that I'm always freezing so I like to think of cute warm things.
What is your favorite item from your own shop and why?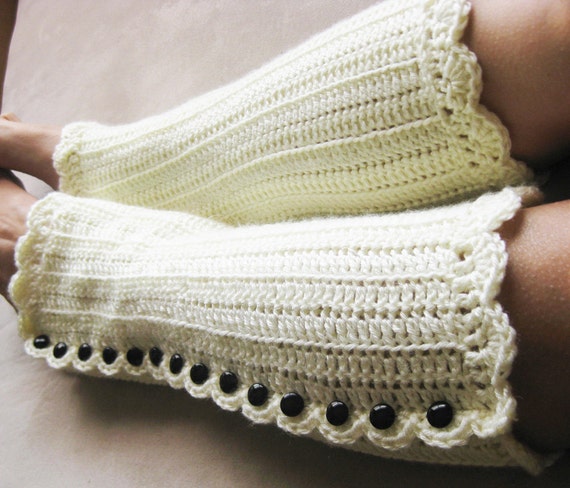 I love these legwarmers. I don't really have a good reason why they're my favorite, they're just warm and cute.
How do you unwind when you're not creating?
I'm an avid reader, board game enthusiast, and rower (on the water or off)
List 3 of your favorite Etsy shops.
This shop is run by a friend of mine and her sisters and the proceeds go to benefit her neice and nephew that have a rare disease
www.etsy.com/shop/AuntsofAngels?ref=pr_faveshops
I think she makes some cool chainmaille stuff that isn't necessarily super gothic:
www.etsy.com/shop/DoBatsEatCats?ref=pr_faveshops
And finally, I just love her art:
www.etsy.com/shop/PaintedRainGallery
How would you describe your work style?
I tend to work in bursts. I might make 8 or 9 patterns in one month and then do nothing new for a month. I've been working on being more consistent and I'm finding that the more I design, the more ideas I get. If only I had more time!
If you could choose any one superhero power, what would it be and why?
Telekinesis. Imagine: Crochet hooks that move themselves!
If you knew then what you know now, what would you do differently in opening your shop?
I would have taken much better photos and started off with patterns right away. I also would have joined a team earlier to help learn how to promote my items.
Please list where you can be found (FB, Twitter, etc) 
www.facebook.com/kickincrochet
pinterest for patterns: www.pinterest.com/onoratim/kickin-crochet-patterns/
pinterest for finished items: www.pinterest.com/onoratim/kickin-crochet-on-etsy/