Meet Sandy Marshall of New York!  Read more here and visit the "jewelry box" at PYKNIC2.
How did you first get started on Etsy?
I'm a "newbie" been on Etsy 5 months…thought it would be a creative way to showcase my jewelry for girls and guys.
What is your inspiration for your shop?
I took a lot of time to get the right "feel" for my shop. I wanted it to be "edgy" and "fun"…a place to showcase how my affordable jewelry looks on someone, not just a picture of the piece. I have a photography background, so I had a blast experimenting with friends and family posing as my models! My goal was to make my shop standout and be different from other jewelry shops on Etsy!
What is your favorite item from your own shop and why?
I like to have fun with the charm bracelets in my junk food collection. This jewelry piece is quirky and a conversation starter piece…also I try to photograph my pieces in a surprising and unusual way…you have to standout from the competition!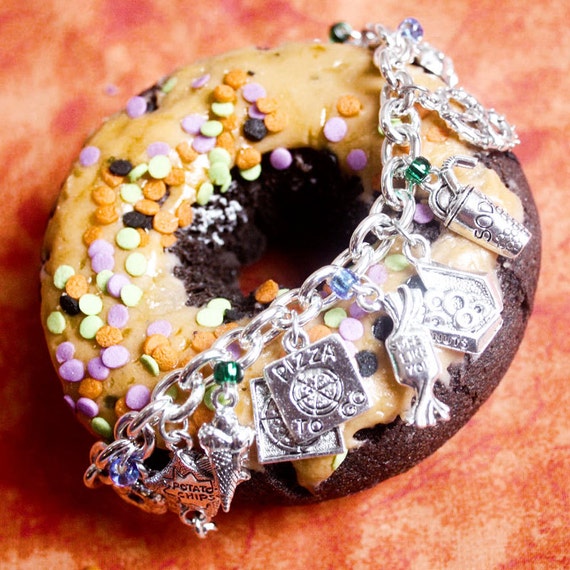 How do you unwind when you're not creating?
Since I spend so much time sitting in front of my computer, I try to get to my gym as much as I can. Also I read a lot of fashion magazines to get ideas for modeling poses and jewelry layouts.
List 3 of your favorite Etsy shops.
Wow! this is hard, everyday I like to look at new shops and get inspired….there are sooo many great shops out there. I'm picking some shops that I know would appreciate some exposure:
www.etsy.com/shop/softtotouch
www.etsy.com/shop/OceanDropPhotography
www.etsy.com/shop/KBandFriends
How would you describe your work style?
I'm still trying to find enough "time" to get everything done daily! I write lists and try to get everything done on my list I spend too much time on social media and not enough on creating my jewelry!
If you could choose any one superhero power, what would it be and why?
I would like the "power" to add more hours to my day!
If you knew then what you know now, what would you do differently in opening your shop?
I think I would have researched my competition a lot more and joined a bunch of Etsy teams sooner. I have found other shops to be very helpful and generous with answering questions and giving guidance. Also I would have set up my social media sites BEFORE I opened my shop….I was overwhelmed with the amount of time and effort that end of the business takes!
Please list where you can be found (FB, Twitter, etc)
www.etsy.com/shop/PYKNIC2
www.facebook.com/Pyknic2
picsity.com/Pyknic2
wanelo.com/smpyknic2/collections
twitter.com/pyknic2
www.pinterest.com/pyknic2/