Nikki Makes Scents is "your one stop scent shopping place" and can be found on Etsy at nikkicandles.  Read more about her shop right here on PJEtsy's blog.
How did you get started on Etsy? 
I don't really remember. I already had a website. I frequented my candle making forums and I think several new candlemakers started using Etsy instead of a website. I thought it would be a good way to market a few exclusive items I made at craft shows that don't have a lot of. I opened an account in 2008 but didn't add an item to sell on it until the middle of 2009. From there it was history. I love Etsy. I get just as much traffic.
What is your inspiration for your shop?
Although I have a few allergies I'm addicted to scents. One can wake up to a smell to put a smile on your face, remind one of happy times, love, and food and travel. Scents inspired me to work with them in candles and bath & body products almost 15 years ago because I couldn't find what I was looking for in department stores. 
What is your favorite item from your own shop and why?
For the fall season I love making the Crackling Firewood Octive 6pk. They smell divine (even unlit) and I love the colors.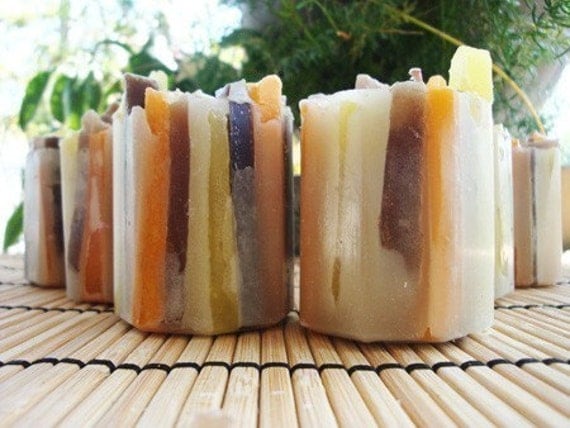 How do you unwind when you're not creating?   When I'm not creating I'm trying to think of ways to create or my boxer Zoe is looking at me with her sad eyes with a toy in her mouth for another trip to the dog park. 
List 3 of your favorite Etsy shops. 
www.etsy.com/shop/thameowdesigns?
www.etsy.com/shop/LaBellaCandela?
www.etsy.com/shop/dippylulu?
How would you describe your work style?
I've learned that if I rush I make mistakes so I give my customers realistic processing times. I put on some music or listen to a Netflix movie on my tablet (because I don't have time to watch it) and before I know it 10 hours have gone by in my workshop. I like to work on one thing at a time if at all possible keep the area clear of clutter.
If you could choose any one superhero power, what would it be and why? 
I don't know if there is a superhero that grows extra arms but I can use extra hands that know what to do during the holiday and wedding seasons.
If you knew then what you know now, what would you do differently in opening your shop?   I probably would have put items on Etsy earlier. 
Please list where you can be found (FB, Twitter, etc) P
nikkimakesscents.blogspot.com
www.facebook.com/NikkiMakesScents
www.twitter.com/nikkicandles
www.pinterest.com/nikkicandles/
www.wanelo.com/NikkiCandles
www.stumbleupon.com/stumbler/nikkicandles
www.rebelmouse.com/nikkicandles/
instagram.com/nikkicandles