Meet Brent and Holly of JJ Ladell's Woodcarving shop on Etsy.  Read more about their works and process right here on PJ Etsy.
How did you first get started on Etsy?
We have been doing craft shows but had a friend's daughter tell us about Etsy and show us how to set up a shop – she has a shop on Etsy also. It'swww.etsy.com/shop/AbishJewelryWorks?ref=teams_post
What is your inspiration for your shop?
Brent grew up on a farm, where is family raised chickens and he loved to watch their different personalities. He has always enjoyed working with wood and when he found a carving book and started he was hooked.
What is your favorite item from your own shop and why?
I love the whimsical carvings, there are so many and bring out Brent's personality and it's great when people come into our craft booth and just laugh and laugh. I wish the pictures did the items justice – it's hard to present them in a great manner through pictures, but Brent has also created stories, that are sent with each item to tell the carving's "story." This carving is probably one of my favorites because it reminds me of Brent and I and our great marriage, I know kinda corny, but true.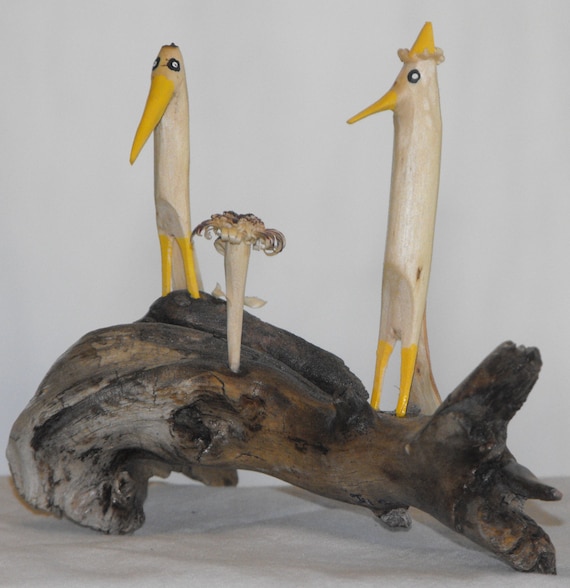 How do you unwind when you're not creating?
Creating is the way Brent unwinds. If he is getting "stressed" I try to get him to go carve – must be something about the wood smell.
List 3 of your favorite Etsy shops.
I've met so many wonderful people on Etsy – it's hard to pick. I love working with the teams – and seeing all the wonderful items. But here are 3
This shop – reminds me of my childhood and brings back wonderful memories.
www.etsy.com/shop/toysofthepast?ref=pr_shop_more
This shop just makes me smile – the creativity is fantastic – we actually bought hats from her sister shop – same hats but for adults
www.etsy.com/shop/YumBaby
This shop has a special spot in my heart because Myrna is such a nice person, and has really reached out to me through the world of Etsy. It's amazing how the world can become so small through Etsy.
www.etsy.com/shop/ShopOfCraftsByMyrna
How would you describe your work style?
I have hard time describing Brent's work – its just an extension of her personality – from the great personalities of his Chicken carvings, to the humor of the whimsical carvings, to the creativing of the Fairy/Gnome homes – to the weirdness of his horses. It's just him – countryfied – is that even a word? It is difinelty one of a kind.
If you could choose any one superhero power, what would it be and why?
Wow – that's a hard question, Brent was injured last year that resulted in a very long year of 2 surgeries and he still has a lot of pain, it was so hard during the recovery when he couldn't carve. Is there a injury proof power – maybe like ElasticaGirl (Incredibles) Able to stretch and bend without injury and bounce back into place.
If you knew then what you know now, what would you do differently in opening your shop?
I don't think we'd do anything different, we were very fortunate to have Lori to walk us through the steps and give us all the in's and out's. We have actually started a 2nd shop – www.etsy.com/shop/Skidaddles101?ref=search_shop_redirect – and have patterned it after the way we set up JJ Ladell's. We have recently had the opportunity to help a dear friend start her Etsy shop and can't wait until she gets going. We've set up all the shops the same way – Lori was great teaching us.
Please list where you can be found (FB, Twitter, etc)
Facebook: www.facebook.com/#!/JJLadells
Pinterest: www.pinterest.com/hollygerde/boards/