Meet Efrat Weisz of Efratul Designs on Etsy.  Check out her amazing accessories and read more about her work and inspiration right here on PJ Etsy:
How did you first get started on Etsy?
My Map zipper pouches include different wallets and bags with maps prints from different cities of the world.
The idea came to me during one of my courses of Industrial design studies.
The exercise was to create a fashionable item with the inspiration of the city of Tel Aviv. My first thought of Tel Aviv was how hard it is, like most big cities in the world, to find a parking space in it. This is when I created my first bag, a messenger bag, designed with the colors of white-blue-red, like the parking marks on the sidewalks that describe whether it's prohibited to park (red and white) or you can park only with parking meter (blue and white). On the inside of the bag I added a print of the whole map of Tel Aviv, to help the one who seeks for a parking spot in Tel Aviv to get by around the streets.
After this first bag I realized the texture of the city map is too pretty to keep it inside the bag.
So I made a new bag with the entire Tel Aviv map on the outside. Then I developed more bags and wallets focusing on specific popular areas of Tel Aviv, and later on I created wallets with maps from all over the world – Jerusalem, New York, Paris, Amsterdam and more…
I also make custom map wallets and custom zipper pouches. This way you can order a wallet with any street of any city you choose. It can be where you live, where you travelled, or your favorite place in the world.
What is your inspiration for your shop?
My inspiration is my city – Tel Aviv. I love the urban feeling when you walk the streets, I love it at night since it's never asleep, and I love it that you can always find a quiet place if you look for it…
Meet Efrat Weisz of Efratul Designs on Etsy.  Read about the inspiration for her amazing accessories right here on Promo Junkies of Etsy!
What is your favorite item from your own shop and why?
My favorite item is the Mondrian fold over clutch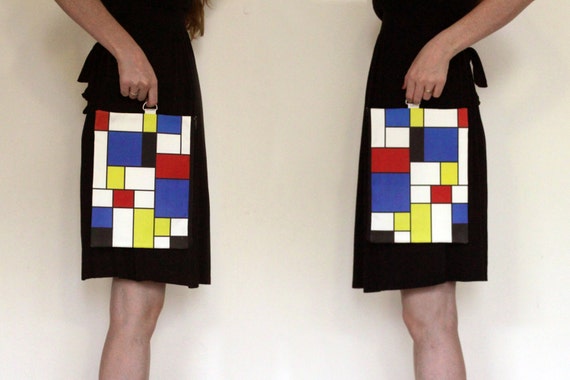 I really love it because it's different from my Map products. It's graphic and I made it because I wanted to make something for myself, something I would Love to use… and that's what came out.
How do you unwind when you're not creating?
Sometimes I wander on Etsy to get inspired from other designers, and sometimes I just need to clear my head by watching TV or taking a walk on the streets.
List 3 of your favorite Etsy shops.
www.etsy.com/shop/TheJoyofColor
www.etsy.com/shop/Alfamarama
www.etsy.com/shop/Mawusi
How would you describe your work style?
I can describe my work as very graphic. I'm a graphic designer, designing wedding albums and business cards and such and it affects my products too.
If you could choose any one superhero power, what would it be and why?
I will choose the power to stop time, or maybe just make it go slower… I always have many things to do and not enough time to do so…
If you knew then what you know now, what would you do differently in opening your shop?
What I would change earlier if I could is start designing products with different cities from all over the world instead of focusing on Israeli cities on my products like I did at the first year I had my shop. Now, slowly, I make new map designs with different cities of the world.
Please list where you can be found (FB, Twitter, etc)
www.facebook.com/efratul
www.pinterest.com/efratul
www.instagram.com/efratul
www.twitter.com/efratul