Ann Cosgrove of Portland, OR creates her modern designed paper goods on Etsy at acbcDesign.  Read more about her right here on Promo Junkies of Etsy:
How did you get started on Etsy?
As a graphic designer, I have been making my own cards off and on for years. Since it has always been so much fun for me, I decided to focus on it it more and turn it into more than just a hobby.

What is your inspiration for your shop?
I pull inspiration from everything around me – from fashion, nature to architecture.

What is your favorite item from your own shop and why?
My favorite item is the black kitty note card. It's a drawing of my own cat, Pepper. It's one of my first designs for the shop, and I just love how it turned out.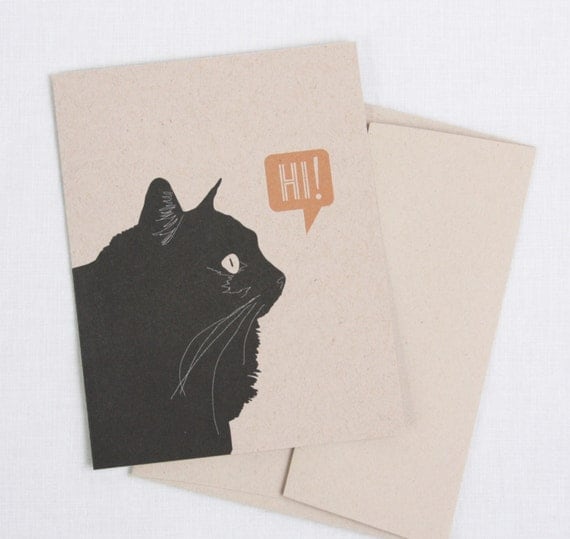 How do you unwind when you're not creating?
I love knitting, movies, food and hiking.

List 3 of your favorite Etsy shops.
Elephantine – gorgeous jewlery from Seattle
www.etsy.com/shop/elephantine

Jolby – super cool prints from my town Portland, Oregon
www.etsy.com/shop/Jolby

Whitney Smith Pottery – simple and gorgeous pieces, from Oakland, CA
www.etsy.com/shop/whitneysmith

How would you describe your work style?
I am pretty organized – so I make time each day to try and work on new designs, or at least doodling and sketching ideas – then balance out time for all the other things that the shop needs!

If you could choose any one superhero power, what would it be and why?
The ability to fly because that would be so awesome!
If you knew then what you know now, what would you do differently in opening your shop?
I think I would have worked harder on my photos and styling, rather than rushing through. I am still in my first year and still learning so much!

Please list where you can be found (FB, Twitter, etc)
Etsy: www.acbcDesign.etsy.com
FB: www.facebook.com/acbcdesign
Instagram: instagram.com/ann_acbcdesign#
Twitter: witter.com/acbcDesign
Tumblr: acbcdesign.tumblr.com/