Meet Christiana with Dreamland Miniatures on Etsy.  Her whimsical mini faux food is made into adorable accessories!  Read more about her here on Promo Junkies of Etsy.
How did you get started on Etsy? 
I've always been interested in art from an age as young as 3 years old. To me, art is a form of expression. It's fun and it's versatile. The things I create give me a chance to express the childhood side of me which I suppose is still present in some small way. Making cute things such as jewelry, key chains, charms and miniatures that look as realistic as real food gives me a challenge to duplicate the vibrant color, variable shapes and textures real food has. So with my extended research on what tools and materials to use, as well as incorporating my talent, I believe I have accomplished realism. Once I became confident in what I do, I decided to open an Etsy shop and share my creations with the world. 

What is your inspiration for your shop? 
My inspiration definitely comes from the 1930's cartoon by Fleischer 'Somewhere in Dreamland'. I grew up on this cartoon and felt love for it ever since. It definitely conjures up memories because I can relate to it in a sense of how I grew up. The cartoon is about two poor children living with their mother struggling for food. The two children one night have a dream about a land where food is coming from everywhere! Food was growing on trees, blossoming out of flowers, raining pop corn etc.
The food miniatures I create are in a way, part of my Dreamland, hence the given name 'Dreamland Miniatures'.

What is your favorite item from your own shop and why? 
I would have to say my waffle necklace. I love waffles so I decided to make a necklace out of it for other waffle lovers such as myself.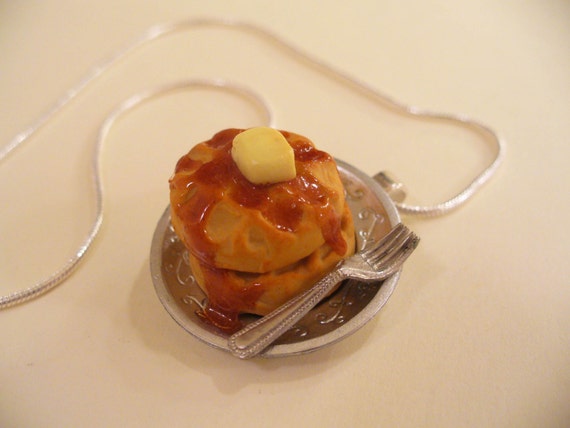 How do you unwind when you're not creating? 
I listen to music or surround myself with good company, visit fun places.

List 3 of your favorite Etsy shops. 
www.etsy.com/shop/ArtRomantique (My mothers beautiful artwork) 
www.etsy.com/shop/TenDigitCreations (The yummiest smelling scents ever!)
www.etsy.com/shop/MiniatureSweet (crafting supplies) 

How would you describe your work style? 
I would describe my work style as fun, cute and stylish. I make different variation of food using vibrant colors, paying close attention to details making my creation look as tasty as the real thing. I aim to make your mouth water 😉

If you could choose any one superhero power, what would it be and why?
If I could choose a superhero power, I would choose mind reading. Reason would be so that I can know what people want, what they think.

If you knew then what you know now, what would you do differently in opening your shop? 
I would not have done anything much different other than knowing how to promote and what tools people are using now to get their shops in the public eye. For months I was relying on search ads but then figured out that it takes effort on my part and work to get my shop out there.

Please list where you can be found (FB, Twitter, etc)
Etsy: www.etsy.com/shop/DreamlandMiniatures 
Facebook: www.facebook.com/DreamlandMiniatures
Pinterest: www.pinterest.com/dreamlandmin/boards/