Meet Aubrey of Wingo Works on Etsy!  Visit her shop for fabulous handmade bracelets and read more about her right here on Promo Junkies of Etsy.
How did you get started on Etsy? 
I graduated from FSU with a photography degree, thinking this is what I want to do and that's it! It soon became that rock climbing and social media became more of my career passion but I still needed an artistic outlet. Since in climbing we work with lots of rope and cord, I started making bracelets out of those and other recycled materials, but also found that leather and hemp we my favorite materials to work with. I decided to take my new hobby to the next level and opened up shop in October 2012. I have not completely put photography in the trash as I do occasionally have photography gifts and print pop up every now and then!

What is your inspiration for your shop? 
The name WingoWorks is inspired first by my surname. The "Works" aspect of its name encourages its customers that they can find all sorts of great works of art to wear and display. I want my bracelets to reflect a personal and handmade touch to each owner. I'd imagine WingoWorks customers to be adventurous and independent, who don't need a lot of bling to be confident in their jewelry. You will always find a lot of nature and earth tone options, but still other bright colors that bring out the colors in its owners' personality. 

What is your favorite item from your own shop and why? 
I truly enjoy my Teal Ceramic Bead and Brown Leather Bracelet. Its earthy tones are truly warm and inviting to wear and has a pop of color that is not overwhelming but provides subtle calming attention. There are many more varieties coming soon!
UPDATE – Teal is sold, check out this gorgeous brown and pink option currently for sale!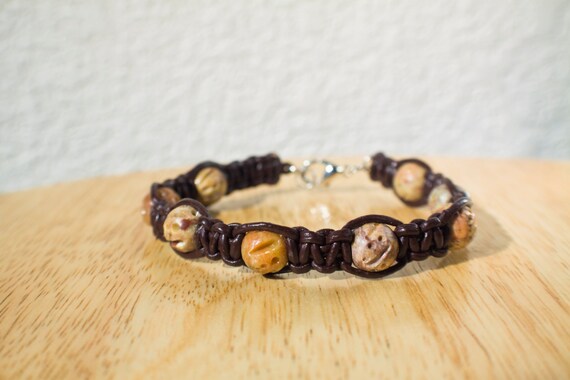 How do you unwind when you're not creating?
I started rock climbing in 2007 and it has played a part in every aspect of my life since. I recently moved to Colorado from Florida to continue my career in the climbing and outdoor industry and am currently a routesetter and climbing instructor in Boulder. You can always find me climbing, hiking, geocaching and outside doing something!

List 3 of your favorite Etsy shops. 
a. HempBeadery – Amazing products and the only place I purchase my hemp from anymore.
www.etsy.com/shop/HempBeadery
b.ShellsfromHeavenoahu
www.etsy.com/shop/ShellsFromHeavenoahu
c. bytherockandweed
www.etsy.com/shop/bytherockandweed

How would you describe your work style? 
I would say you could describe my work style as candid and chaotic. I seem to make creations in waves – my life will change week to week on priorities so at once point I will make bracelets for days during all my spare time and then I will spend a week on Etsy or a week climbing or even cooking! While others are occupied with their craft with some music or other motivation while my style is sitting cross legged on the floor and watching Mythbusters or climbing videos. My mind clears and my fingers do the work for me!

If you could choose any one superhero power, what would it be and why? 
Super strength, but with a normal physique. Flying and telekinesis is overrated… but to always be able to open that stupid pickle jar? Oh man. Oh yeah, and rock climbing would be way easy too!

If you knew then what you know now, what would you do differently in opening your shop? 
I still don't know a lot! My background in social media has always put me ahead of the game when it comes to promotion and being a photographer, I am always trying to take the best photos of my products. I suppose that I would figure out a better way of organizing my materials and managing my expenses!

Please list where you can be found (FB, Twitter, etc)
www.wingoworks.etsy.com/
www.facebook.com/wingoworks
www.twitter.com/wingoworks
www.instagram.com/wingoworks
www.aubreywingo.tumblr.com
www.pinterest.com/wingoworks
www.picsity.com/wingoworks
www.aubreywingophotography.com