Meet Alison from OnceUponACraft4U on Etsy!
How did you get started on Etsy? 
I got started on Etsy after my daughter was diagnosed with type 1 diabetes, trying to figure out a way to earn extra income to cover our unexpected medical expenses. My sister was also pregnant at the time, and showed me all the crochet items she had purchased for the baby. It was then I told her that the next items she wanted, she should tell me and I would make them for her. That got my creative juices going and I started crocheting away designing new things and the next thing you know, my shop OnceUponACraft4U was born, perfectly combining my love of crochet into something that could bring us extra income. 
What is your inspiration for your shop?
My greatest inspiration would be designing things for my 1yr old niece, and just born nephew. I love to crochet to turn old patterns into trendy new fashion pieces.
What is your favorite item from your own shop and why?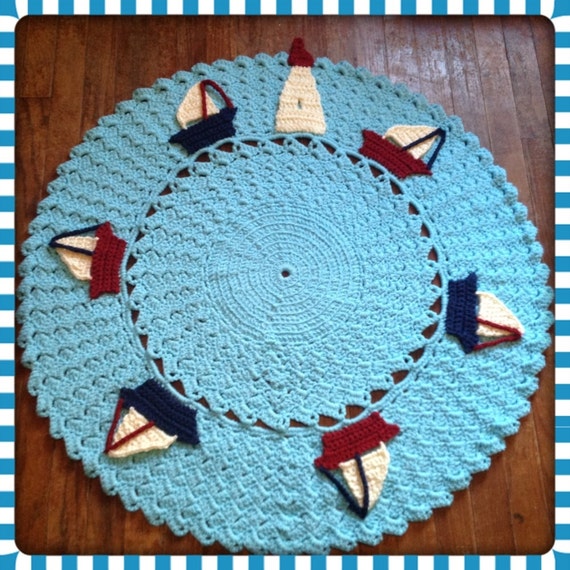 My favorite item is my sailboat rug. I was inspired by a 1950's doily sailboat pattern, and worked long and hard to make it into a novel area rug. 

How do you unwind when you're not creating?
I would say that creating is my time to unwind. I have a very busy life with new medical equipment to figure out, like her Dexcom Monitor and Insulin Pump, and all the associated Dr. Appointments. I also am a substitute teacher part-time, and I go to college at ISU to get my Master of Art's in Teaching. So when I have a moment to research ancient patterns, and craft them into something new, that is the time I am able to unwind the most!
List 3 of your favorite Etsy shops. 
I love the home decor you can find in Ever and Oak. 
www.etsy.com/shop/EverandOak?ref=teams_post
I really love bright colors, and so fell in love with this shop's artwork
www.etsy.com/shop/nJoyArt?ref=teams_post
And my last favorite shop would be My Little Pixels because I love the airiness of her designs, on iphone cases and jewlery.
www.etsy.com/shop/mylittlepixels?ref=teams_post
How would you describe your work style?
I like to get things done as quickly as possible. I also love to work with customers to make their dreams come true, it's always a good day when a customer comes to me with an idea and I can craft that into a piece they will love as much as I loved to make it for them!
If you could choose any one superhero power, what would it be and why? 
I would love the superhero power that lets you freeze time. That way I could focus on my crochet for hours and not get tired and never have to put my crochet hook down!
If you knew then what you know now, what would you do differently in opening your shop? 
The one thing I realized now that I didn't know then is the importance of good pictures. When I opened my shop, I put up my items and waited for a sale that seemed like forever to come. Then I read on etsy other sellers asking how someone took such a good picture. The seller's answer was that they hung the item in their bathtub and then lay in an awkward position on the floor to get the best angle and lighting. Through experimenting I learned that taking pictures on my kitchen table gives me the best light. 
Please list where you can be found (FB, Twitter, etc)
I can be found on 
Facebook at www.facebook.com/OnceUponACraft4U?ref=hl
Wanelo at wanelo.com/store/onceuponacraft4u/trending
Twitter at twitter.com/SisAMTrimble
Pinterest at www.pinterest.com/onceuponacraft4