Meet Amanda from DnA Designed in Dallas, TX!  She designs custom graphics and art – check her out on Etsy and read more about her shop right here on Promo Junkies of Etsy.
How did you get started on Etsy?
I got started on Etsy this year in June, I am in school for graphic design and have always wanted to own my own business. I found Etsy through a family member. I thought it would be a great place to start up a business!

What is your inspiration for your shop?
I get my inspiration from things around me in everyday life from nature, fashion, etc.

What is your favorite item from your own shop and why?
My favorite item in my shop at the moment is the Shakespeare quote print, "Though she be but little, she is fierce." It is my favorite because I love the design in the background and I find it to be perfect for a little girls nursery!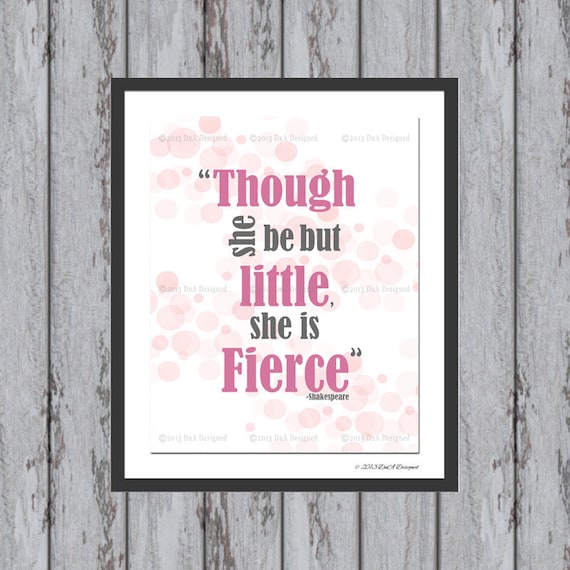 How do you unwind when you're not creating?
I enjoy taking pictures, after I graduate with my Associates in Graphic Design, I plan on going to school for photography and expanding that love. Also I love to try new food, watch some movies and relax on the couch with my boyfriend!

List 3 of your favorite Etsy shops.
-Grepic-love her designs 
www.etsy.com/shop/Grepic

-Delightful Digitals-love all the choices and paper designs
www.etsy.com/shop/DelightfulDigitals?

-Lovely Knits-Love everything in her shop!
www.etsy.com/shop/LovelyKnits

How would you describe your work style?
My work style is organized and relaxed. I make sure all my designs are carefully organized and try to create something new each day. After my job I come home and promote the shop a little bit before starting new designs.

If you could choose any one superhero power, what would it be and why?
I would chose time travel, I think it would be an amazing thing to be able to travel through time and see how life has changed and will change in the future. 

If you knew then what you know now, what would you do differently in opening your shop?
I would have worked on my picture displays better. I am still working on a few! I have definitely learned a lot so far in a short amount of time and look forward to learning and improving more! 

Please list where you can be found (FB, Twitter, etc) 
-http://www.facebook.comDnADesigned
-http://www.twitter.com/DnADesigned1
-http://www.pinterest.com/dnadesigned